When:
April 16, 2023 @ 2:00 pm – 4:30 pm
2023-04-16T14:00:00-04:00
2023-04-16T16:30:00-04:00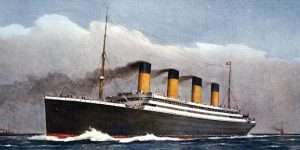 Remember the Titanic
The Titanic struck an iceberg and sank on her maiden voyage 111 years ago, yet her story still fascinates us. Journey back in time to 1912. Learn about the creation and building of the Titanic and the many heroes who emerged during her tragic demise. The program will be followed by a lovely high tea in the Ladies' Library elegant and historic main library room. Feel free to wear your favorite period attire or hat!
Open to the public. Tickets: $25